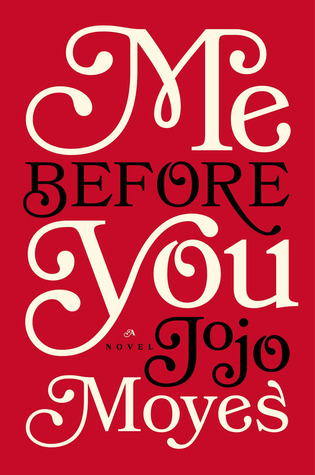 Written by: Jojo Moyes
Published date: 31st of December 2012
Published by: Pamela Dorman Books/Viking
Category: Fiction/Modern & Contemporary Fiction/General Fiction
Pages: 369 (Hardcover)
Goodreads rate: 4.27 / 5
My Rating: 5 / 5

This post is my very first review ever therefore, I choose Me Before You as my first official book review. This book have been reviewed by so many people by now so I would keep it nice and short.
I read Me Before You while ago now. It is about young woman named Louisa Clark who suddenly lost her job. She is eager to find a new job as she is needed to help her family out. She was hired by Mrs Traynor to be a carer for her son William Traynor. William is a quadriplegic from a tragic accident.
Synopsis
Louisa Clark is an ordinary young woman living an exceedingly ordinary life—steady boyfriend, close family—who has never been farther afield than their tiny village. She takes a badly needed job working for ex-Master of the Universe Will Traynor, who is wheelchair-bound after an accident. Will has always lived a huge life—big deals, extreme sports, worldwide travel—and now he's pretty sure he cannot live the way he is.
Will is acerbic, moody, bossy—but Lou refuses to treat him with kid gloves, and soon his happiness means more to her than she expected. When she learns that Will has shocking plans of his own, she sets out to show him that life is still worth living.
A love story for this generation, Me Before You brings to life two people who couldn't have less in common—a heartbreakingly romantic novel that asks, What do you do when making the person you love happy also means breaking your own heart?
Review
I really loved reading this novel, It made me cry, laugh and feel happiness!.
I had all these mixed emotions while reading the entire novel.
I am not much of a romantic person but I love to read love stories! This novel did move me! I got hooked and I could not put the book down, I stayed up all night reading. If I could ever unread a book and rereading it again, it would be Me Before You.
Louisa Clark is such a funny woman! I really loved her personality and just the person she is! She is a good person, fell in love with a man wonderful man, sad that they did not live happily ever after, but I would not change the ending. It was definitely very sad, it sure did make me cry.
Conclusion.
Me Before You is written really good and clear which made it easy to anyone to read it. This book has definitely made me feel all mix emotions cry, smile, laugh and happiness all the way through the book.
I thought Me Before You was a sweet romantic book. I have always enjoyed reading this time of genre. I would recommend this book if you are a fan of the genre or even if you are a fan on Nicholas Sparks.
About the author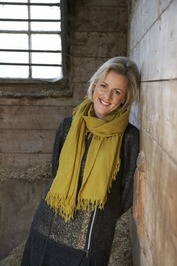 Jojo Moyes is a British novelist.
Moyes studied at Royal Holloway, University of London. She won a bursary financed by The Independent newspaper to study journalism at City University and subsequently worked for The Independent for 10 years. In 2001 she became a full time novelist.
Moyes' novel Foreign Fruit won the Romantic Novelists' Association (RNA) Romantic Novel of the Year in 2004.
She is married to journalist Charles Arthur and has three children.
Visit her goodreads.