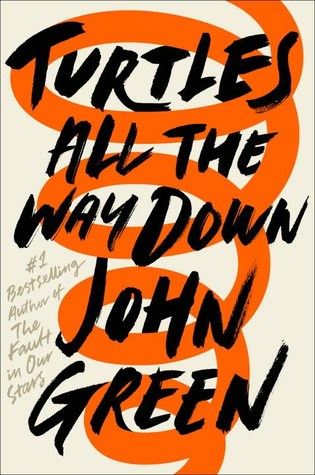 Written by: John Green
Published date: 10th of October, 2017.
Publiched by: Dutton Books for Young Readers
Category: Fiction / Young Adult / Contemporary.
Pages: Hardcover, 288.
Goodreads rating: 4.03 / 5
My rating: 4 / 5
Turtles All The Way Down is about a young girl named Aza who is going through a mental health problem/OCD and stuck living in her own thoughts.
This book has been reviewed over 20 thousand times! I will be stating what I liked and what I did not like about it rather than doing a full review.
"We never really talked much or even looked at each other, but it didn't matter because we were looking at the same sky together, which is maybe even more intimate than eye contact anyway. I mean, anybody can look at you. It's quite rare to find someone who sees the same world you see."
Synopsis
Sixteen-year-old Aza never intended to pursue the mystery of fugitive billionaire Russell Pickett, but there's a hundred-thousand-dollar reward at stake and her Best and Most Fearless Friend, Daisy, is eager to investigate. So together, they navigate the short distance and broad divides that separate them from Russell Pickett's son, Davis.
Aza is trying. She is trying to be a good daughter, a good friend, a good student, and maybe even a good detective, while also living within the ever-tightening spiral of her own thoughts.
In his long-awaited return, John Green, the acclaimed, award-winning author of Looking for Alaska and The Fault in Our Stars, shares Aza's story with shattering, unflinching clarity in this brilliant novel of love, resilience, and the power of lifelong friendship.
Review
Turtles All The Way Down was written really well. I was so worried that I wouldn't like it but I felt the opposite, I actually really liked it. A lot of people have told me that after reading it TATWD would change my life or i would become a completely different person. To be honest It did not change my life or change the person I am but I did definitely have mixed feelings while reading it and I also thought about things from my past.
Things I like:
The characters were created and described really well.
Aza's struggles were described really great – her thoughts were included which I really loved.
Her best friend Daisy, a star wars fan and an online fan fiction writer. I loved her personality, she was funny and very bubbly.
Aza's mental health was described really well and it definitely felt real.
John Greens writing style on this book was so good that I understood every single thing that was being said and I did not get confused at all.
I love how Davis Pickett did not judge the way Aza is as a person, he was supportive and did not force her to do things that made her uncomfortable. (Most 16 year old boys are normally the opposite of this).
Things I dislike:
The romance was a little short.
Daisy said some pretty nasty things to Aza but I actually thought all the stuff that Daisy said about Aza was her. Not once she asked how Aza was or was there for Aza during her struggles (other than being there at the hospital and visiting her). All she thought about was herself and she was very inconsiderate.
"The worst part of being truly alone is you think about all the times you wished that everyone would just leave you be. Then they do, and you are left being, and you turn out to be terrible company".
Conclusion
Turtles All The Way Down is definitely a really good book. Story was amazing and really easy to read. I recommend it to people who likes the genre and even people who do not normally read these type of novels.
I am looking forward to reading more John Green books in near future.
About the author
John Green's first novel, Looking for Alaska, won the 2006 Michael L. Printz Award
presented by the American Library Association. His second novel, An Abundance of Katherines, was a 2007 Michael L. Printz Award Honor Book and a finalist for the Los Angeles Times Book Prize. His next novel, Paper Towns, is a New York Times bestseller and won the Edgar Allen Poe Award for Best YA Mystery. In January 2012, his most recent novel, The Fault in Our Stars, was met with wide critical acclaim, unprecedented in Green's career. The praise included rave reviews in Time Magazine and The New York Times, on NPR, and from award-winning author Markus Zusak. The book also topped the New York Times Children's Paperback Bestseller list for several weeks. Green has also coauthored a book with David Levithan called Will Grayson, Will Grayson, published in 2010. The film rights for all his books, with the exception of Will Grayson Will Grayson, have been optioned to major Hollywood Studios.
In 2007, John and his brother Hank were the hosts of a popular internet blog, "Brotherhood 2.0," where they discussed their lives, books and current events every day for a year except for weekends and holidays. They still keep a video blog, now called "The Vlog Brothers," which can be found on the Nerdfighters website, or a direct link here.