Hi everyone. Happy November! New month, new tbr list 😍🙌🏽.
My reading in October was actually really good! I read 5 books, for some of you thats probably not that much but I'm not very fast reader 😂😂. I could of probably read more but I was on holiday first 2 weeks of October and after that was back to reality aka WORK 😰😰 so there was so much stuff happening!
Anyways I'm setting myself to read 5 books for this month so I won't be disappointing myself like I did in September 🙄😬. Here are the books I can't wait to read this month.
---
Life After Death
By: Jackson Baer
 Published date: 5th of November, 2018.
Pages: Kindle (ARC from the author)
Synopsis: 
The Childs family faced the unthinkable… now they have a second chance.
~~~
The Childs family has endured a terrible tragedy, but the FBI's shocking discovery has turned their lives upside down.
His kids have all moved on from the death of their mother, as has Isaac from the loss of his wife, but now that the FBI has finally solved the case, the Childs family must face the loss of Ramie all over again.
Each has their own relationships and their own lives, but all are upended due to unforeseen circumstances. As they maneuver these new lives, they must deal with love, heartache, and jealousy as a family, and the choices they face will not be easy.
Their decisions bring out the best in some… and the worst in others.
---
Something In The Water
By: Catherine Steadman
Published date: 19th of June, 2018.
Pages: Hardcover, 352.
Goodreads rating: 3.74 / 5. 
Synopsis:
A shocking discovery on a honeymoon in paradise changes the lives of a picture-perfect couple in this taut psychological thriller debut–for readers of Ruth Ware, Paula Hawkins, and Shari Lapena.

If you could make one simple choice that would change your life forever, would you? 
Erin is a documentary filmmaker on the brink of a professional breakthrough, Mark a handsome investment banker with big plans. Passionately in love, they embark on a dream honeymoon to the tropical island of Bora Bora, where they enjoy the sun, the sand, and each other. Then, while scuba diving in the crystal blue sea, they find something in the water. . . .
Could the life of your dreams be the stuff of nightmares?
Suddenly the newlyweds must make a dangerous choice: to speak out or to protect their secret. After all, if no one else knows, who would be hurt? Their decision will trigger a devastating chain of events. . . .
Have you ever wondered how long it takes to dig a grave?
Wonder no longer. Catherine Steadman's enthralling voice shines throughout this spellbinding debut novel. With piercing insight and fascinating twists, Something in the Water challenges the reader to confront the hopes we desperately cling to, the ideals we're tempted to abandon, and the perfect lies we tell ourselves.
---
The Bronze Horseman
By: Paullina Simons
Published date: 2000.
Pages: Paperback, 2015, 637.
Goodreads rating: 4.32 / 5.
Synopsis: 
Leningrad 1941: the white nights of summer illuminate a city of fallen grandeur whose palaces and avenues speak of a different age, when Leningrad was known as St Petersburg.
Two sisters, Tatiana and Dasha, share the same bed, living in one room with their brother and parents. The routine of their hard impoverished life is shattered on 22 June 1941 when Hitler invades Russia. For the Metanov family, for Leningrad and particularly for Tatiana, life will never be the same again. On that fateful day, Tatiana meets a brash young man named Alexander.
The family suffers as Hitler's army advances on Leningrad, and the Russian winter closes in. With bombs falling and the city under siege, Tatiana and Alexander are drawn inexorably to each other, but theirs is a love that could tear Tatiana's family apart, and at its heart lies a secret that could mean death to anyone who hears it.
Confronted on the one hand by Hitler's vast war machine, and on the other by a Soviet system determined to crush the human spirit, Tatiana and Alexander are pitted against the very tide of history, at a turning point in the century that made the modern world.
---
Sharp Objects
By: Gillian Flynn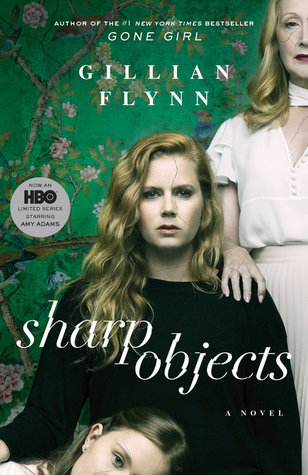 Published date: 12th of June, 2018.
Pages: Paperback, 254.
Goodreads rating:
Synopsis: WICKED above her hipbone, GIRL across her heart
Words are like a road map to reporter Camille Preaker's troubled past. Fresh from a brief stay at a psych hospital, Camille's first assignment from the second-rate daily paper where she works brings her reluctantly back to her hometown to cover the murders of two preteen girls.
NASTY on her kneecap, BABYDOLL on her leg
Since she left town eight years ago, Camille has hardly spoken to her neurotic, hypochondriac mother or to the half-sister she barely knows: a beautiful thirteen-year-old with an eerie grip on the town. Now, installed again in her family's Victorian mansion, Camille is haunted by the childhood tragedy she has spent her whole life trying to cut from her memory.
HARMFUL on her wrist, WHORE on her ankle
As Camille works to uncover the truth about these violent crimes, she finds herself identifying with the young victims–a bit too strongly. Clues keep leading to dead ends, forcing Camille to unravel the psychological puzzle of her own past to get at the story. Dogged by her own demons, Camille will have to confront what happened to her years before if she wants to survive this homecoming.
With its taut, crafted writing, Sharp Objects is addictive, haunting, and unforgettable.
---
The Woman Who Kept Everything
By: Jane Gilley
Published date: 3rd of December, 2018.
Pages: Kindle (ARC through NetGalley).
Goodreads rating: 4.13 / 5.
Synopsis: 
The Lady in the Van meets The Unlikely Pilgrimage of Harold Fry in this uplifting, funny and moving debut novel about a 79-year-old hoarder who is convinced the world is against her.
79-year-old Gloria Frensham is a hoarder. She lives amongst piles of magazines, squashed cardboard boxes, surplus carpet rolls, heaps of towels and knick-knacks littering the stairs. She hasn't left her home for years, until a loud bang and a sudden smell of singeing sets in motion Gloria's unwilling exodus from her home…
That day is the start of a journey that will never return Gloria back to her beloved, hoarded possessions, nor to her son's house to live. For it is the start of her journey to discover life again – and she's going to make some good friends and defiant decisions along the way, with just one very small suitcase in tow…
Heart-warming and poignant in equal measure, this is a story about the loneliness of life, the struggles of growing old, the power of kindness, and the bravery it takes to leave our comfort zones.
---