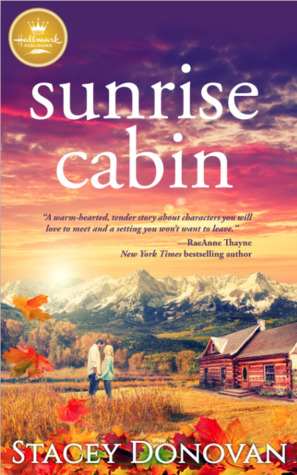 Written By: Stacey Donovan.
Published date: 2018.
Published by: Hallmark Publishing.
Pages: (Kindle) A free copy from Netgalley.
Goodreads rating: 4.55 / 5
My Rating: 4 / 5
Another review that is so well overdue. I was on holiday for a couple of weeks. I went on a cruise for 9 days with my boyfriend and a few friends. I am thinking about posting about my trip eventually. Anyhow I had no idea that the internet connection on the ship was so bad that I would not be able to post or even read other peoples post, so therefore I am so behind with everything.
I received this free copy through Netgalley for an exchange of honest review. Here's my review and I hope you enjoy it.
Synopsis
Two very different people… 
One very special place. 
Dylan's an overworked investment banker. Paige is a free-spirited first-grade teacher. From the first time they meet, these two opposites attract.
Meanwhile, the cabin Paige is renting has gone up for sale. She loves living there, and she just might be able to buy it—if she finally achieves her dream of selling her children's stories. When she learns Dylan is also determined to buy the cabin, their new romance turns into a real estate rivalry.
Dylan could tell her about his own connection to the place…but that would mean opening up about his past. As his relationship with Paige goes from funny to touching, they both discover more about love, hope, and the true meaning of home.
This romance contains a Hallmark original recipe for Maple Pecan Streusel Muffins with Cider Glaze.
Review
I really liked the style of how the book is written, easy to read and very easy to understand the story. I actually never heard of the author before so I did not expected myself to like it but after a couple of chapters I really started to enjoyed the story. I do not think there is anything about it that I did not like at all.
The love story felt a little fairytalish but thats okay as most love story are but I still loved every single bit of the book. I will definitely be buying a hardcopy of this book!
Paige is definitely my favourite character! her personality is just so positive, even through difficult times she tries to live her life in a positive way. She started her morning by sitting outside watching the sunrise while saying things out loud like what she is thankful for. She enjoyed her life, being a teacher, loved bright colours, beautiful things, nature and Paige brings joy and happiness to anyone around her.
Conclusion
Overall Sunrise Cabin is definitely an amazing book. The story is easy to understand. I highly recommend it to anyone who wants to do a little bit of light reading, to people who enjoys the genre or people who loves love stories.
I hope to read more of Stacey Donovan in the future and I hope you enjoy it as much as I enjoyed this book.
About the author
Stacey Donovan grew up in central Illinois, earned her MFA in Creative Writing at the University of Arizona in Tucson, and was a Master Writer at Hallmark in Kansas City, where she wrote several gift books and children's books. She now lives in Los Angeles with her husband and their three rescue dogs. A true optimist, she loves stories with happy endings, random acts of kindness, and adventures big and small.