So this is a list of books that I HOPE I get to read before the year ends. I will be also reviewing them when I am done. Sometimes I read four books and not review any of them as I sometimes can't be bothered. I will try my best to review them as soon as I can.
---
Plain Truth
By: Jodi Picoult
Published date: 24th of February, 2018.
Pages: Paperbook, 512.
Goodreads rating: 3.97 / 5.
Synopsis: "Jodi Picoult is never afraid to take on hot topics" (PopSugar) and in this riveting novel, a shocking murder in the heart of Amish country shakes the community to its core and tests the heart and soul of the city lawyer defending the young woman accused.
When the body of an infant is discovered in an Amish barn, residents of Lancaster County are horrified. The investigation takes a stunning turn when the police allege that circumstantial evidence suggests that eighteen-year-old Katie Fisher—an unmarried Amish woman believed to be the newborn's mother—took the child's life.
When Ellie Hathaway, a disillusioned big city attorney, arrives to defend Katie, their two cultures collide and for the first time in her high-profile career, Ellie faces a justice system very different from her own. Desperate to connect with Katie and unravel a complicated murder case, Ellie must also confront her own fears and desires when a man from her past unexpectedly reenters her life.
---
Volcano Street
By: David Rain
Published date: 1st of January, 2015.
Pages: Paperback, 310.
Goodreads rating: 3.63 / 5.
Synopsis: In the tradition of great Australian literature Volcano Street is a wonderfully vivid portrayal of small-town life and the uncertainties of childhood.
'What would Germaine do?'
This is the mantra that Skip and Marlo Wells turn to as they navigate their way through the twists and turns that life brings. Such as the sectioning of their mother Karen Jane.
Marlo puts her faith in her hero, Germaine Greer, and twelve-year-old Skip trusts her clever big sister to know the right thing to do. But when the sisters are forced to move to their Auntie Noreen and Uncle Doug's home in the backwater city of Crater Lakes even Marlo can't think of a solution.
At age sixteen, Marlo is forced to quit school and work in the family hardware store. Skip manages to get on her auntie's bad side from the get-go and is an outcast at school as she vehemently declares the injustice of the Vietnam War – not what Noreen wants to hear with her precious son Barry off fighting.
Against the backdrop of a broken home, the fight for equality and a far off war Volcano Street is a heartfelt tale of acceptance and belonging, and learning what family truly means.
---
The Shanghai Wife
By: Emma Harcourt
Published date: 18th of June, 2018.
Pages: Paperback, —
Goodreads rating: 3.24 / 5.
Synopsis: Leaving behind the loneliness and trauma of her past in country Australia, Annie Brand arrives to the political upheaval and glittering international society of Shanghai in the 1920s. Journeying up the Yangtze with her new husband, the ship's captain, Annie revels in the sense of adventure but when her husband sends her back to Shanghai, her freedom is quickly curtailed.
Against her will, Annie finds herself living alone in the International Settlement, increasingly suffocated by the judgemental Club ladies and their exclusive social scene: one even more restrictive than that she came from. Sick of salacious gossip and foreign condescension, and desperate to shake off the restrictions of her position in the world, Annie is slowly drawn into the bustling life and otherness of the real Shanghai, and begins to see the world from the perspective of the local people, including the servants who work at her husband's Club.
But this world is far more complex and dangerous than the curious Annie understands and, unknowingly, she becomes caught in a web of intrigue and conspiracy as well as a passionate forbidden love affair she could not have predicted: one with far reaching consequences…
---
Something In The Water
By: Catherine Steadman
Published date: 19th of June, 2018.
Pages: Hardcover, 352.
Goodreads rating: 3.74 / 5. 
Synopsis:
A shocking discovery on a honeymoon in paradise changes the lives of a picture-perfect couple in this taut psychological thriller debut–for readers of Ruth Ware, Paula Hawkins, and Shari Lapena.

If you could make one simple choice that would change your life forever, would you? 
Erin is a documentary filmmaker on the brink of a professional breakthrough, Mark a handsome investment banker with big plans. Passionately in love, they embark on a dream honeymoon to the tropical island of Bora Bora, where they enjoy the sun, the sand, and each other. Then, while scuba diving in the crystal blue sea, they find something in the water. . . .
Could the life of your dreams be the stuff of nightmares?
Suddenly the newlyweds must make a dangerous choice: to speak out or to protect their secret. After all, if no one else knows, who would be hurt? Their decision will trigger a devastating chain of events. . . .
Have you ever wondered how long it takes to dig a grave?
Wonder no longer. Catherine Steadman's enthralling voice shines throughout this spellbinding debut novel. With piercing insight and fascinating twists, Something in the Water challenges the reader to confront the hopes we desperately cling to, the ideals we're tempted to abandon, and the perfect lies we tell ourselves.
---
The Little Orphan Girl
By: Sandy Taylor
Published date: 24th of September, 2018.
Pages: Kindle Edition, 358.
A free copy from Netgalley.

Goodreads rating: 4.8 / 5
Synopsis: Ireland, 1901: For as long as six-year-old Cissy Ryan can remember, she has been a workhouse girl. Living amongst the other orphan boys and girls, dreaming of a family that might come and choose her for their own.
But the day her real mammy finally comes to claim her is not how Cissy imagined. An unfamiliar woman takes her to a tumbledown cottage in the rural Irish countryside to meet her gruff granddaddy. Settling into the isolated and poverty-stricken village is tough. But Cissy's blossoming friendship with Colm Doyle and his horse Blue show Cissy the kindness and laughter is possible, even in the hardest of times.
As Cissy grows up, she finds that the world around her is ever changing. When she goes to work at prestigious Bretton Hall, she begins to realise that not everyone has an honest heart…
In one moment, Cissy's life is turned upside down and she finds herself on a boat to England, sailing away from all she holds dear. Will Cissy ever find her way back to Ireland and everything she knows? Or is there more heartbreak to come?
---
Keeping Her Close
By: Casey Diam
Published date: 14th of August, 2018.
Pages: Kindle Edition, 307.
A free copy from Netgalley.

Goodreads rating: 3.57 / 5
Synopsis: When a heart is broken, it withdraws, shielding itself from further pain, but also from further life.
Brandon Kuvat gave up on love ten years ago—the year he was set to become a dad. A wealthy playboy pilot, he still sees plenty of action, but he's not the man he once was. Or the man he wishes he could be. The first time he encounters Jordan, he knows immediately she is different. He also knows hurting her is inevitable. Still, he can't stay away, even if it means he'll have to settle for a friendship—but only for as long as that can last.
Wounded by a disastrous relationship, Jordan Artesian has put her whole focus on work, nurturing her dreams of owning her own fashion line. But though her creativity blooms, the rest of her is still frozen, that is, until Brandon charms his way into her life. He's irritating, but somehow…intriguing. She hates that she finds his charming and challenging ways attractive. He isn't supposed to make her feel things she's given up on feeling.
For these two, friendship will never be enough—not when she's what he needs to heal, and he's what she needs to feel again. But can they find their way down the path of friendship to truly love and trust one another, or will they only destroy each other's hearts all over again?
---
Happiness
By: Heather Harpham
Published date: 7th of September, 2017. 
Pages: Hardcover, 336.
Goodreads rating: 4.16 / 5 
Synopsis: A shirt-grabbing, page-turning love story that follows a one-of-a-kind family through twists of fate that require nearly unimaginable choices.
Happiness begins with a charming courtship between hopelessly attracted opposites: Heather, a world-roaming California girl, and Brian, an intellectual, homebody writer, kind and slyly funny, but loath to leave his Upper West Side studio. Their magical interlude ends, full stop, when Heather becomes pregnant – Brian is sure he loves her, only he doesn't want kids. Heather returns to California to deliver their daughter alone, buoyed by family and friends. Mere hours after Gracie's arrival, Heather's bliss is interrupted when a nurse wakes her, "Get dressed, your baby is in trouble."
This is not how Heather had imagined new motherhood – alone, heartsick, an unexpectedly solo caretaker of a baby who smelled "like sliced apples and salted pretzels" but might be perilously ill. Brian reappears as Gracie's condition grows dire; together Heather and Brian have to decide what they are willing to risk to ensure their girl sees adulthood.
The grace and humor that ripple through Harpham's writing transform the dross of heartbreak and parental fears into a clear-eyed, warm-hearted view of the world. Profoundly moving and subtly written, Happiness radiates in many directions – new, romantic love; gratitude for a beautiful, inscrutable world; deep, abiding friendship; the passion a parent has for a child; and the many unlikely ways to build a family. Ultimately it's a story about love and happiness, in their many crooked configurations.
---
Save The Date
By: Morgan Matson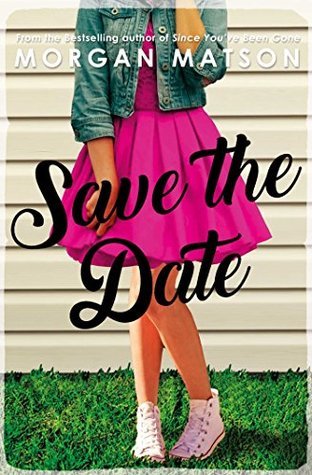 Published date: 14th of June, 2018.
Pages: Paperback, 417.
Goodreads rating: 3.86 / 5.
Synopsis: Charlie Grant's older sister is getting married this weekend at their family home, and Charlie can't wait—for the first time in years, all four of her older siblings will be under one roof. Charlie is desperate for one last perfect weekend, before the house is sold and everything changes. The house will be filled with jokes and games and laughs again. Making decisions about things like what college to attend and reuniting with longstanding crush Jesse Foster—all that can wait. She wants to focus on making the weekend perfect.
The only problem? The weekend is shaping up to be an absolute disaster.
There's the unexpected dog with a penchant for howling, house alarm that won't stop going off, and a papergirl with a grudge.
There are the relatives who aren't speaking, the (awful) girl her favorite brother brought home unannounced, and a missing tuxedo.
Not to mention the neighbor who seems to be bent on sabotage and a storm that is bent on drenching everything. The justice of the peace is missing. The band will only play covers. The guests are all crazy. And the wedding planner's nephew is unexpectedly, distractingly…cute.
Over the course of three ridiculously chaotic days, Charlie will learn more than she ever expected about the family she thought she knew by heart. And she'll realize that sometimes, trying to keep everything like it was in the past means missing out on the future.
---
The Hate U Give
By: Angie Thomas
Published date: 28th of February, 2017.
Pages: Paperback, 438.
Goodreads rating: 4.56 / 5.
Synopsis: "What's the point of having a voice if you're gonna be silent in those moments you shouldn't be?"
Sixteen-year-old Starr lives in two worlds: the poor neighbourhood where she was born and raised and her posh high school in the suburbs. The uneasy balance between them is shattered when Starr is the only witness to the fatal shooting of her unarmed best friend, Khalil, by a police officer. Now what Starr says could destroy her community. It could also get her killed.
---
Sharp Objects
By: Gillian Flynn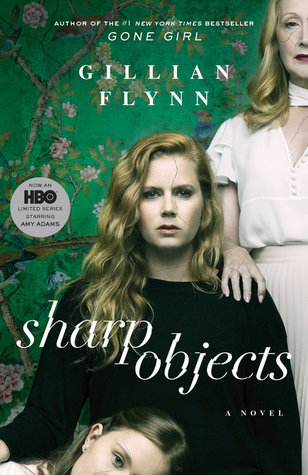 Published date: 12th of June, 2018.
Pages: Paperback, 254.
Goodreads rating:
Synopsis: WICKED above her hipbone, GIRL across her heart
Words are like a road map to reporter Camille Preaker's troubled past. Fresh from a brief stay at a psych hospital, Camille's first assignment from the second-rate daily paper where she works brings her reluctantly back to her hometown to cover the murders of two preteen girls.
NASTY on her kneecap, BABYDOLL on her leg
Since she left town eight years ago, Camille has hardly spoken to her neurotic, hypochondriac mother or to the half-sister she barely knows: a beautiful thirteen-year-old with an eerie grip on the town. Now, installed again in her family's Victorian mansion, Camille is haunted by the childhood tragedy she has spent her whole life trying to cut from her memory.
HARMFUL on her wrist, WHORE on her ankle
As Camille works to uncover the truth about these violent crimes, she finds herself identifying with the young victims–a bit too strongly. Clues keep leading to dead ends, forcing Camille to unravel the psychological puzzle of her own past to get at the story. Dogged by her own demons, Camille will have to confront what happened to her years before if she wants to survive this homecoming.
With its taut, crafted writing, Sharp Objects is addictive, haunting, and unforgettable.
---
The Kissing Booth
By: Beth Reekles
Published date: 13th of December, 2012.
Pages: Paperback, 448.
Goodreads rating: 3.53 / 5.
Synopsis: Meet Rochelle Evans: pretty, popular–and never been kissed. Meet Noah Flynn: badass, volatile–and a total player. And also Elle's best friend's older brother… 
When Elle decides to run a kissing booth for the school's Spring Carnival, she locks lips with Noah and her life is turned upside down. Her head says to keep away, but her heart wants to draw closer–this romance seems far from fairy tale and headed for heartbreak.
But will Elle get her happily ever after?
---