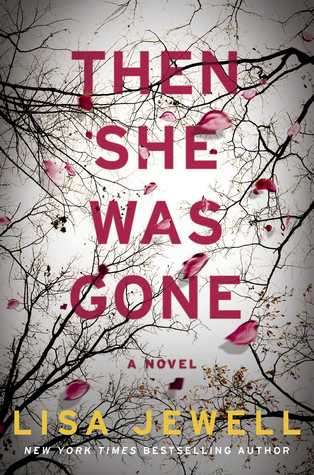 Written by: Lisa Jewell
Published Date: 17th of April, 2018
Published By: Atria Books
Category: Mystery / Thriller / Fiction 
Pages: Hardcover, 359
Goodreads Rate: 4.16 / 5
My Rating: 4 / 5

Then She Was Gone took me a couple of days to finish, I could not put the book down. I was always wanting to know what would happened next. It is about Laurel Mack, a wife and mother of three. Laurel's life stopped in so many ways after her youngest daughter, Ellie Mack, a fifteen years old golden child went to the library to study and failed to return home.
"If she could rewind the timeline, untwist it and roll it back the other way like a ball of wool, she'd see the knots in the yarn, the warning signs. Looking at it backward it was obvious all along."
Synopsis.
THEN
She was fifteen, her mother's 
golden girl. She had her whole life ahead of her. 
And then, in the blink of an eye, Ellie was gone. 
NOW 
It's been ten years since Ellie 
disappeared, but Laurel has never given up 
hope of finding her daughter.
And then one day a charming and charismatic stranger called Floyd walks into a café and sweeps Laurel off her feet. 
Before too long she's staying the night at this house and being introduced to his nine year old daughter. 
Poppy is precocious and pretty – and meeting her completely takes Laurel's breath away. 
Because Poppy is the spitting image of Ellie when she was that age.
And now all those unanswered questions that have haunted Laurel come flooding back. 
What happened to Ellie? Where did she go? 
Who still has secrets to hide?
Review.
Then She Was Gone was my very first thriller novel. It was written nicely which made it easy to read. I wished there was a timeline to understand when the paticular events happened instead of just using the word "then", it would of made it a lot clearer. Also it would've been good if it stated on each of the chapters who was speaking. There was a few chapters which I felt confused, I had no idea who was telling the story.
The first part of the book was really interesting but after a while it became a little slow, it went on in a very detailed way about things I really did not want to know as I just really want to know what really happened to Ellie. As I continued reading things started to pick up, things started to add up and I started figuring out what really happened and why it happened.
"As the father of your children, as a friend, as someone who shared a journey with you and as someone who loves you and cares about you. I don't need to be married to you to be all those things. Those things are deeper than marriage. Those things are for ever."
After a few chapters I started to suspected who was really behind Ellie's disappearance, it was clearly there, it was so obvious who it really was and that was not even half way through the book. I wish there were more characters who could of been behind it, a few suspects would make the story a lot more interesting. It would of made the readers start guessing who really did it.
I loved the characters that were featured though, they were created and described well. I could imagine what they would of looked like. I would've loved to know more about Laurel's other two kids, how they would of felt and what their thoughts were about the whole situation.  I wish there was at least a small chapter about Theo, Ellies boyfriend. He seemed like a such a good person and he really liked Ellie, his feelings or thoughts about losing his girlfriend was not mentioned at all.
Conclusion.
Overall Then She Was Gone by Lisa Jewell was a good read. Written nicely, characters were really good. I have seen so many Thriller movies, the story could of been better but I still really enjoyed reading it, it kept me interested enough to continue reading to the end. The last chapter though, it really did brought tears to my eyes.
Considering this was my first Thriller story I have ever read, I have nothing to compare it with. I would recommened it to people who have not read this type of genre before or first time readers that wish to explore all different genres.
About the author.
Lisa Jewell was born in London in 1968. Her mother was a secretary and her father was a textile agent and she was brought up in the northernmost reaches of London with her two younger sisters. She was educated at a Catholic girls' Grammar school in Finchley. After leaving school at sixteen she spent two years at Barnet College doing an arts foundation course and then two years at Epsom School of Art & Design studying Fashion Illustration and Communication.
She worked for the fashion chain Warehouse for three years as a PR assistant and then for Thomas Pink, the Jermyn Street shirt company for four years as a receptionist and PA. She started her first novel, Ralph's Party, for a bet in 1996. She finished it in 1997 and it was published by Penguin books in May 1998. It went on to become the best-selling debut novel of that year.
Visit her Facebook and Goodreads to check out more of her books.